Rare Franklin Mint House of Faberge Once Upon A Dream Musical Jewelry Box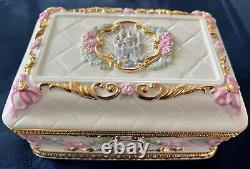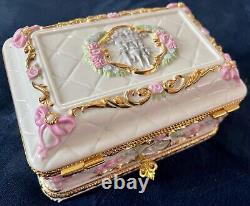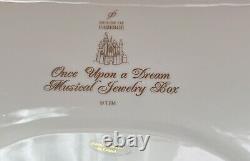 RARE Franklin Mint House of Faberge "Once Upon A Dream" Musical Jewelry Box with Ballerina - Disney Cinderella. This Rare Franklin Mint House of Fabergé "Once Upon A Dream" Musical Jewelry Box is nothing short of enchanting. A true collector's gem, it exudes opulence and artistry in every detail. This is a rare House of Faberge "Once Upon a Dream" Jewelry Music Box from the esteemed Franklin Mint collection.
It features Cinderella, who dances when you open the porcelain box adorned with intricate 24-karat gold detailing. Its dimensions are approximately7.5" in width, 3.75" in height, and 5 in depth, reaching 8 inches when opened.
Inside, you'll find a mirrored interior with sumptuous pink velvet. A miniature dancer twirls to the melody of "Cinderella Dream of the Ball" when you turn the gold key clockwise, and Cinderella pauses her dance as you close the lid. This collectible is particularly hard to find in such exceptional condition, dating back to before 2000. It's a creation by the House of Faberge exclusively for Franklin Mint, crafted from fine porcelain with24-karat gold accents and a pink fabric lining. The miniature Cinderella figurine dances before the mirror to the enchanting music.
This piece is incredibly rare and elusive in the market, making it a must-have for collectors and fans of Cinderella. It's a nostalgic treasure that brings back cherished childhood memories. The Franklin Mint has truly outdone itself with this remarkable creation, making it a perfect addition to any collection or a cherished gift for a loved one. This limited edition piece promises to bring joy and magic to anyone fortunate enough to own it.
Experience the enchantment of the Franklin Mint House of Faberge "Once Upon A Dream" Musical Jewelry Box, featuring a mesmerizing dancing princess. This pre-owned treasure exudes elegance and beauty, making it a perfect addition to any jewelry collection. Crafted with meticulous attention to detail, this jewelry box features delicate gold accents that add a touch of sophistication. Made of porcelain and metal, it showcases a stunning design that will captivate your senses. With a wind-up mechanism, this jewelry box comes to life as the dancing spinner ballerina gracefully twirls to the tune of a captivating melody.
Feel a sense of wonder as you watch her elegant movements and let the music transport you to a dreamlike realm. Rest assured, this jewelry box is in excellent condition, free from any damage or flaws. The beauty and charm of this piece remain intact.
Immerse yourself in the magic of the Franklin Mint House of Faberge "Once Upon A Dream" Musical Jewelry Box. Add a touch of enchantment to your life or surprise a loved one with this extraordinary treasure. They come from a pet-free and smoke-free environment.
Please refer to the attached picture for details, keeping in mind that colors may vary slightly between computer screens. Please refer to the photos for more details. We strive to provide accurate representations of each item(s) in our listings.
The sale of this item is final. Please refer to the pictures for details or message me with any questions or queries before purchasing.

---