1989 Franklin Mint Gone With the Wind Collector 15 FigurineSet (COMPLETE SET!)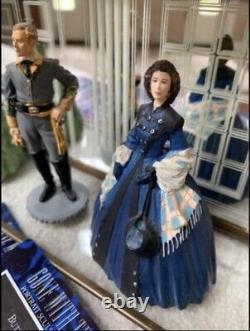 This collector set of 15 figurines from the 1989 Franklin Mint collection is a must-have for any fan of the movie Gone with the Wind. Each figurine is beautifully crafted with porcelain, resin, and glass materials to depict the iconic characters and scenes from the film. Commemorative 1989 release celebrating the 50 year anniversary of the classic movie, Gone With the Wind. This set is complete with ALL 15 SCULPTURES including the rare and popular sculptures of Mammy, Prissy, and Bonnie Blue. Comes with a glass and mirror display case. Also included is the information card for each figure.
The figurines are displayed on mirrored shelves, making them a stunning addition to any room in your home. Whether you're a collector or a fan of the movie, this set is a unique and timeless piece that you won't want to miss out on.
Condition is marked as "new" because once, taking out of its packaging, this set was kept in a display case and rarely touched. It is just like new.

---